Australia's First
Buddhist High School
Pal Buddhist School is open to all students from all walks of life. They are taught to become wise, disciplined and compassionate learners, driven by independent investigation, empiricism and reason. As such, it is not a religious school; the teachings of Buddha inspires the love of the pursuit of truth. This is achieved through the development of secular knowledge in the academics as well as spiritual wisdom through meditation and mindful practice.
A School for Mindful Learning
Mindfulness at Pal Buddhist School is a special dimension which provides our students with highly effective remedies to everyday stresses and enhances their academic performance. Although mindfulness has been supported by research to promote effective learning, it is but one component derived from the holistic path of life taught by the Buddha. We offer mindfulness and meditation classes as a reprieve from the stresses of the world, while exercising in students a spirit of calm discipline necessary to achieve academic excellence.
A School for Student Achievement
'Siddhartha' was the Buddha's birth-name. It means 'One who achieves his own goals'. The Buddha was an advocate of ambitious goal-setting, constant striving and discipline for the sake of attaining one's own goals. Thus, while accepting the different potentials of each individual, we rouse in our students the desire to be the very best person that they can be. We celebrate high achievement in academics, arts and sport, while instilling within students the ambition to pursue excellence in all domains.
A School of Service and Love
As a non-profit organisation, Pal Buddhist School seeks to return its profits back into the community. Extra-curricular activities on offer for students involve voluntary service in charity fundraising, nursing homes, and community events. The purpose is to give our students the opportunity to serve the community and develop skilful responses based on the four kinds of love taught by the Buddha: goodwill, compassion, appreciation and patient understanding.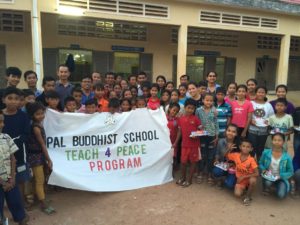 A School of Charity and Generosity
Our Teach4Peace Program extends our community outreach toward children in developing countries living in poverty in rural and tragic circumstances. Since 2015, our mission has supported the establishing of a free English school for orphans in Prey Thom Primary School in Kampot, Cambodia. It affirms Nelson Mandela's vision that, 'Education is the most powerful weapon that you can use to change the world.' At Pal Buddhist School, both teachers and students are world-changers set in our mission to make a difference in the lives of others.