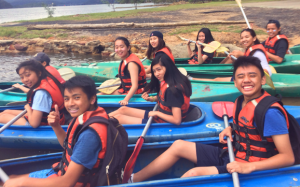 The Duke of Edinburgh's Award is an international award for Youth development and Leadership in Outdoor Education. Pal Buddhist School has offered this program since 2015.
The Award comprises a three-tiered structure awarding prizes in: Bronze, Silver and Gold, with components of Service, PE, Expeditions and Skills.
In order to fulfil the requirements of the Duke of Edinburgh Award at Pal Buddhist School, students need to engage with independent community work beyond the school.
To get an Award, you just need to set yourself challenges and strive to reach these challenges. The idea is to develop skills and confidence which you always have, wherever life takes you. The great thing about The Award is that it allows you to piggy-back onto activities you may already be doing, such as surf life saving, playing a sport or volunteering, and counting those towards your Award. So start something you've always dreamed of doing but haven't had the reason to begin.
Participants choose their own activities and se their own goals within four general areas.
Expeditions: to encourage a spirit of adventure and discovery.
Service: to encourage a spirit of adventure and discovery.
Skills: to encourage the development of personal interests and practical skills.
Physical Recreation: to encourage participation in physical recreation and improvement of performance.